Fiart Mare amazes with its brand new 43 Seawalker
The new Fiart 43 Seawalker entered the water on August 22 in Baia (Na). The launch took place in the historic site of the shipyard where, in 60 years of activity, Fiart Mare has produced thousands of boats.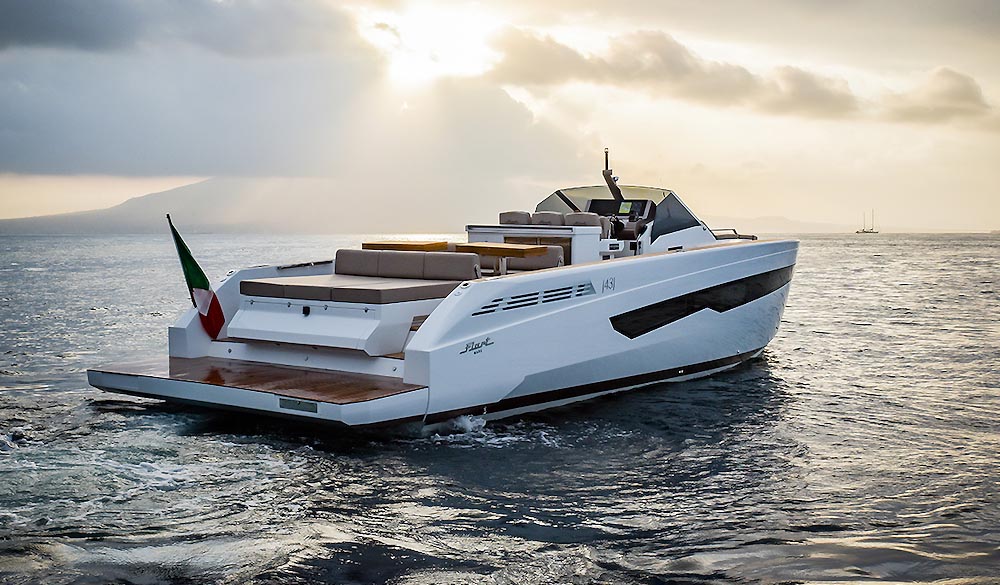 At the launch there were managers and technicians of the shipyard but also all the workers who with their contribution of experience and dexterity, have created a boat of great technical and aesthetic value.

With the 43 Seawalker, Fiart Mare relaunches that lucky Mediterranean boat concept already proposed with the Fiart 33 Seawalker, a model perfectly capable of fulfilling its function in daily use or for a fast cruise. 13.84 m long by 3.99 wide, 43 Seawalker has a walkaround deck design characterized by a modular layout and inside it offers two real cabins: forward with double bed, aft with single beds side by side, both served by a large bathroom with separate shower cubicle.

Trait d'union between Fiart Mare and the owner, a French client, was the OMV Yachting Group, an organization that operates on the French Riviera from the Port Grimaud and Saint-Tropez offices. His contribution was important in being able to mediate between the customization capabilities of the yard and the needs of the customer who for his boat chose a cockpit characterized by a layout where the set-up includes, in addition to a large sundeck, a sofa and two mobile tables, capable of making spaces more versatile.

Among the options present on the first Fiart 43 Seawalker there is also the large aft bridge with electro-hydraulic movement which, in addition to facilitating access to the sea, facilitates the launching and hauling of the tender on board.

Among the six configurations available in terms of propulsion and engines, three with Volvo Penta, D4 and D6 stern drives, and three with IPS Volvo Penta, 500, 600 and 650 series, the owner of the first Fiart 43 Seawalker opted for the IPS 600.
PhotoGallery 15/photo